Committed to quality, excellence and exceptional service.
Since 1988, we've been committed to "Building Partnerships in Excellence" and we're excited to share our history with  you.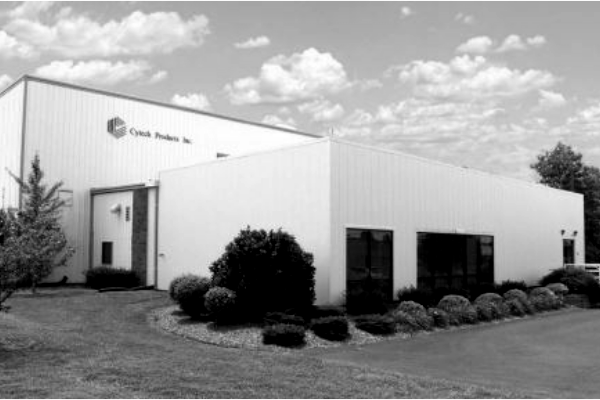 After many years of sales to companies within the United States, Chukyo Yushi Co., Ltd. (Japan) made the decision to open a facility in Kentucky. Cytech was founded March 7, 1988 as a joint venture between Chukyo Yushi Co. Ltd. (Nagoya, Japan), Tomen America Corp. (NY) and Tomen Corporation (Tokyo, Japan).
In 2006, Tomen Corp merged into Toyota Tsusho Corp (part of the Toyota Group of companies). Toyota Tsusho Corp. became Chukyo Yushi's new partner at the same time. Chukyo Yushi Co., Ltd. And Toyota Tsusho Corp agreed to dissolve the Joint Venture agreement in 2016. In mid-2016, Nagase America and Nagase Corp (Japan) became new joint venture partners with Chukyo Yushi in the enterprise that is Cytech Products, Inc.
Today Cytech Products, Inc. still operates under contract from Chukyo Yushi. Chukyo Ysuhi is the basis for product design and development. Nagase America Corp. coordinates administrative functions for Cytech Products, Inc. as well as acts as a sales agent on our behalf. With Chukyo Yushi and Chukyo Thailand supplying Asia, Cytech supplying the Americas and another Chukyo Yushi company, Chukyo Europe GmbH, supplying Europe, the group offers global availability of a diverse product mixture.
As a manufacturer of performance chemicals, Cytech supplies release agents for molded polyurethane systems, especially in the automotive
industry, coating chemicals for thermal sensitive paper, additives for specialty ceramic applications and more. We also toll produce specific dispersions and emulsions based on customer requirements and formulations.
Cytech's unique expertise in wax technologies, plus knowledge of emulsification and dispersion, has led to the development of a distinct product base. Together with our expanding lab capabilities, these strengths allow us to provide unequaled customer service. Particle size, distribution and consistent properties with every batch make Cytech Products, Inc. an industry leader.
The mission of Cytech Products Inc. is "Building Partnerships in Excellence" with our
customers.

The management of Cytech Products Inc. is committed to quality, by initiating quality policies that will lead to "Building Partnerships in Excellence" with our customers. These initiatives will enable us to develop a prosperous future side by side with our partners. This commitment is reflected in our company's mission statement and in the following objectives.
1. Provide exceptional quality products and services by striving to exceed our customers' expectations.
2. Maintain a formal quality system meeting all ISO 9001 standards.
3. Foster an atmosphere of continuous process improvement and problem prevention.
4. Empower employees so that they can help improve the systems that affect their work.
5. Provide education and training to all employees to support their health, welfare and
safety as a top priority.
6. Communicate our mission and quality objectives to all employees.
7. Develop relationships with our suppliers that emphasize continuous improvement in
product quality, service and support.
8. Provide an environment that supports teamwork.
9. Incorporate the most efficient and cost effective production methods.
10. Develop competitive pricing for products and services.
Cytech Products Inc. has current ISO 9001:2015 certification.
We have been certified to ISO:9001 or 9002 since 1999.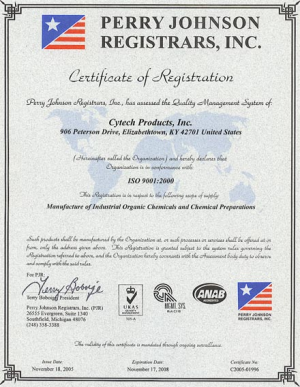 Interested in learning more about our industry-leading products? 
Explore our products here…